Euclid 3v3 Soccer Tournament – 2022
June 18 @ 3:00 pm

-

June 19 @ 11:00 pm
Enjoy a fun evening of soccer at the beautiful Euclid High School athletic complex! Turf fields, concessions, and fun for the whole family!
Euclid Summer Night 3v3 Soccer Tournament
Hosted by Euclid Youth Soccer Organization
Date/Time
Saturday, June 18, 2022
3:00pm – 11:00pm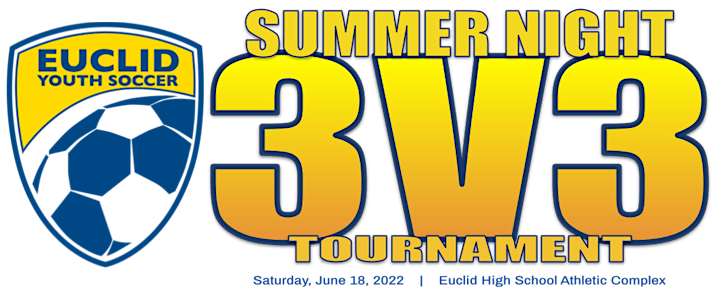 Location
Euclid High School (711 E 222nd St, Euclid, OH 44123)
Turf fields with Bownet (or equivalent) goals
Come enjoy the Euclid High School athletic complex with pristine turf fields, on-site concessions, and a fun environment under the lights!
Age Groups
Based on birth year according to US Soccer recommendations. Each age group will feature male and female divisions. Some age groups may be combined, and some age groups may feature multiple divisions, depending on team availability. Teams will be notified prior to changes.
U8 (2014-2015)
U10 (2012-2013)
U12 (2010-2011)
U14 (2008-2009)
U16 (2006-2007)
U18 (2004-2005)
Rosters
Teams are made up of up to six players and must have at least one adult coach. Players may only play on one team per division. Proof of age (player card, birth certificate, passport, drivers license, school ID) is required at check-in. Rosters are due one week before the tournament.
Games and Schedules
Each team is guaranteed three games. Each division will have a championship game.
Game duration is 25 minutes, running clock.
Schedules will be released a week prior to the tournament.
Rules and Additional Details
See our website.